Join Us!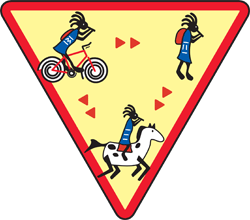 You don't have to be a member to ride with us, but we'd love it if you joined the club.
Members receive a number of benefits, including:
Riding with a friendly, cohesive group of people who have similar interests and abilities
Sponsorships from some local bike shops*
Discounted club jerseys
An open invitation to all club parties and activities (free food)
Membership in a club that actively works on maintaining and ensuring open access to trails

Chapter Dues
Annual dues are handles by IMBA. You may pay either online or via snail-mail.
To pay online, please use our online IMBA application form.
To pay via snail-mail, complete this form and mail it to the address in the bottom right corner of the document. Your local Chapter is the "Los Alamos Singletrack Association".

* Tuff Rider discounts vary from season to season. Please contact the Tuff Riders for a list of current discounts.

New Rider Checklist
We have a few basic rules:
All riders must wear helmets.
All riders must have basic riding skills.
Riders must notify another rider before leaving the group when out on the trail.
No rider is left behind. You are responsible for keeping track of the rider behind you.
All riders must sign the waiver before riding with the group.
Please...no dogs! (We don't want a rider or a dog to get hurt!)